Tom McEvoy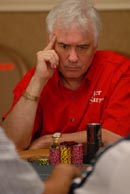 1983 WSOP Main Event Champion

Winner of 4 WSOP Bracelets

First person to win a seat through a satellite and win the WSOP Main Event.

WPT Pro Poker Tour Champion

Author of over 13 poker books

Poker Seminar Leader and Speaker

Monthly Columnist for Card Player Magazine

ProPlayLive.com Poker School Instructor
Tom McEvoy is one of the best known names in poker, not to mention a true gentleman of the game. Tom has an unquestionable reputation for integrity as well as a World Class Poker Player. In addition to him doing instructional videos for Pro Play, he is also available for One On One Personalized Poker Instruction.

Interestingly enough, Tom didn't set out to be a poker player. He began his professional life as an accountant. He discovered however that he could make a far better living (and probably a more interesting one) at the poker tables. So, in 1979 he left his job in Michigan and moved to Las Vegas to pursue a full-time poker career.

Four years later in 1983, Tom won his first World Series of Poker bracelet, but his first one wasn't in the main event.

Tom won the Limit Hold'em event and $117,000 in prize money.

Six days later, Tom wins the most coveted title in poker, the WSOP $10,000 Championship Event, along with $540,000 in prize money.

The coolest part of the whole story is that Tom actually made history with that WSOP Championship win because he was the first player ever to win the event by winning his $10,000 seat in a satellite tournament.

Tom has since gone on to earn millions in career tournament winnings. He's added two more World Series of Poker Bracelets to his collection giving him 4 total and amazingly, all four of his bracelets have been won in different games:
WSOP Limit Hold'em

WSOP Championship NL Hold'em

WSOP Seven Card Razz

WSOP Limit Omaha High

Tom McEvoy is also one of the most prolific poker book authors in the industry with over a dozen poker books to his name.
Virtually all successful poker players have read one or more of Mr. McEvoy's books, with the books listed below being among the most popular:
Championship Tournament Strategy

Championship Satellite Strategy with Brad Daugherty

Championship Omaha (with TJ Cloutier)

No Limit Holdem (New Player Series with Brad Daugherty)

Championship Stud (with Max Stern and Linda Johnson).
Tom's poker books are required reading for serious poker players, covering a wide range of topics from general poker strategy, starting hands and money management to reading players and taking poker thinking to higher levels. He has been a featured columnist for Card Player magazine for eight years, sharing poker knowledge in his Tournament Poker column every other week. Click this link to check out Tom's Official Website.

In addition to poker, Tom has a keen interest in backgammon, fine dining and movies. He is a voracious reader, favoring fantasy and horror with his favorite author being Stephen King. Tom is also an avid stamp collector, history buff and collector of dragons.

We are proud to have a player of Tom's caliber, both as a player and a person, as part of the ProPlay team. Click this link if you are interested in Private Poker Instruction from Tom McEvoy.