Greg "FossilMan" Raymer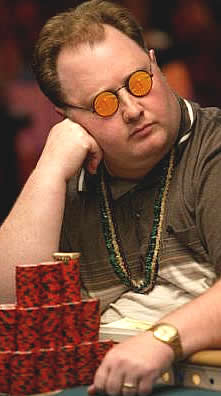 2004 WSOP Main Event Champion - $5,000,000

2005 WSOP Main Event 25th Place Out of 5,619 Entrants
4 Cashes at 2007 WSOP

1st Place (of 772), $320 Pot Limit Omaha w/Rebuys at 2007 World Championship of Online Poker (WCOOP).
PokerStars.net TV Ad Spokesperson & Member of Team PokerStars

WSOP Academy Poker Camp Leader and Speaker

ProPlayLive.com Poker School Instructor
In 2004 Greg "FossilMan" Raymer made history when he won the WSOP Main Event Championship in No Limit Hold'em with a prize of $5 million which was at that time the largest purse ever paid to a winner of a poker tournament. The very next year in 2005 he did almost the impossible by finishing in 25th place, out of a field of over 5,619 poker players. With these finishes, Greg has set himself apart from his peers by becoming one of the greatest large field tournament players of all time.

In fact, until the beginning of the 2006 World Series of Poker, Raymer became the first and only player who cashed in every single event that had fields over 2,000 players, which at the time were the among the five largest pools of players in WSOP history:
63 out of 2,776 (2006 $1,500 NL)
6 out of 2,013 (2005 $1,500 NL)
25 out of 5,619 (2005 $10,000 Championship)
86 out of 2,305 (2005 $1,500 NL)
1 out of 2,576 (2004 $10,000 Championship)
But in addition to poker accolades and accomplishments, Pro Play's instructors also need to exhibit a very critical skill, and that is one of being a good teacher. Greg has gotten rave reviews as a lead instructor at the World Series of Poker Academy Poker Instructional Camps and was active on the rec.gambling.poker Internet newsgroup as well as on TwoPlusTwo.com in his younger days.
Greg's poker experience began when he was in college playing nickel-dime poker. Later, he had been a blackjack card-counter in the Indian Casinos in Minnesota during grad school and law school to make extra money. When he moved to Chicago, there were no good blackjack games available but while searching for one Raymer stumbled across a charity poker game. Intrigued, he focused on learning the game better and bought poker books, found rec.gambling.poker, and went from there, moving up from 3-6 to 20-40 and eventually 150-300 in Connecticut.
Raymer's nickname "FossilMan" comes from the fossils he uses as card protectors at the table. He has a well-deserved reputation as a nice guy and a solid player who has spent many hours signing autographs and talking to aspiring poker players who approach him. He has been a great ambassador for the game of poker and is a World Champion who understands the responsibility that comes with sudden fame.
A former Patent Attorney, Raymer was playing online for a number of years before winning his seat online at PokerStars. Wearing his trademark lizard eye glasses he played very aggressive poker for six days finally besting 2,576 entrants for the 2004 WSOP Main Event.
The training videos Greg has created for ProPlayLive.com have been nothing short of superb. We welcome you to learn from one of the best poker minds around.