Bill Chen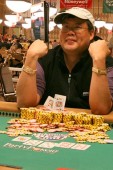 Bill Chen, has over 10 WSOP cashes in just the past 2 years. He holds a PhD in Math. Not making enough money as a graduate student, he began supplementing his income by playing poker.
2-time WSOP Bracelet Winner (Both in 2006: $2,500 Short Handed No Limit Hold'em and $3,000 Limit Hold'em)

4 Cashes at 2007 WSOP

Cashed in APPT Macau, Taipa (China) Nov 2007

6 Cashes at 2006 WSOP

Won the bust-out tournament at the WPT Battle For the Season Pass in the Bahamas Dec 2007.
Nearly $1 million in total poker tournament cashes

PhD in Mathematics from Berkeley

Author of The Book: The Mathematics of Poker
ProPlayLive.com Poker School Instructor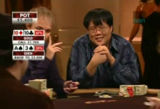 Bill has been a past participant on the GSN Hit TV Show "High Stakes Poker" with Daniel Negreanu and others hosted by Gabe Kaplan and AJ Benza.
Bill has often said: "Each poker player has their own way of looking at the game and math gives me an advantage over the other players just as other players use different skills to give them an advantage."
We are proud to have as part of the ProPlay team an instructor of Bill's amazing success. For more information, check out Bill Chen's profile on Wikipedia. Click this link if you are interested in Private Poker Instruction from Bill Chen.