Annie Duke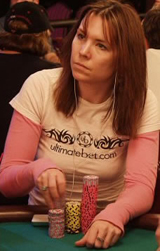 WSOP Bracelet in 2004 $2K Omaha Hi/Lo Split

1st Place WSOP Tournament of Champions

10th Place in 2000 WSOP Main Event

Holds Women's Record For Most "in the money" WSOP Finishes

Several NBC "Poker After Dark" Appearances

Over $3.4 Million in Live Tournament Winnings

Initially Learned to Play From Her Brother, Howard Lederer

Ultimate Bet Spokesperson & TV Show Co-Host

ProPlayLive.com Advanced Poker Training Instructor
Annie Duke is currently one of the top female poker players in the world. Annie is also one of the most recognized people in poker with the Play Station game World Championship PokerŪ featuring her and her brother, Howard Lederer as well as her many instructional poker DVDs and of course, her book, "How I Raised, Folded, Bluffed, Flirted, Cursed, and Won Millions at the World Series of Poker". If all that wasn't enough, she's has several appearances on NBC's Poker After Dark TV show, and is co-host with Phil Hellmuth on The Best Damn Poker Show. She keeps her fans up to date on Annie Duke's Official Website.
Annie's poker career began in Billings, Montana, where she played local tournaments and cash games. Her brother Howard mentored her and as she excelled in the game, he recommended she enter a WSOP tournament. She placed in 3 tournaments and in only her first month of serious playing she cashed for over $70,000. That success became the launching point for her professional poker career and hence her move to Las Vegas.
In the past 10 years, Annie truly has established herself as one of the best poker players in the world. She won her first WSOP Bracelet in 2004 in the $2000 entry Omaha Hi/Lo Split event. Later that same year, Duke knocked out 8 of the worlds' greatest poker legends and won $2 million in the No-Limit Texas Hold'em winner-take-all, invitation-only WSOP Tournament of Champions, established by ESPN and Harrah's Entertainment. As of 2008, Annie holds the women's record for most "in the money" finishes at the WSOP. In the World Series of Poker 2006 Main Event she finished in 88th place out of 8,773 players and was one of two women left in the field when she was eliminated. She also placed 10th in the 2000 WSOP Main Event.
As you'll find, Annie's videos here on ProPlayLive.com are jam-packed with information that goes way beyond the basics. She delivers tips, strategies and the math of poker at a rapid pace so if you can't keep up be sure to make use of those pause and speed controls on the video player!